Facilities
The Barn and Common Areas
Indoor Riding Arena - 210 x 80 with new led lighting, tractor and hay storage at rear of arena. Riding space is 190 x 80, dust free, freshly sprayed with magnesium for best footing.
Stalls – all stalls are 12 x 12 or larger and have rubber mats. Stalls are cleaned every day, bedded down with pine or soft wood shavings.
Alleyways - paved for maximum grip with in floor heating and wide aisles.
Paddocks and Turnout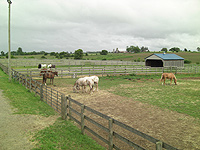 9 paddocks – 8 are 1 acre in size and mainly dry lots / dirt fields. Some grow a little grass. 1 paddock is 2.5 acres partially grassed. We'll work with you to safely assimilate your horse into one of them. Additionally there is a fenced 3 acre grass field for riding or grazing.
24/7 access to fresh water (troughs are cleaned often and water levels monitored) and salt.
Turnout Hours (for indoor board)
Horses will be turned out for as much time as possible as this is beneficial for their mental and physical health. More outdoor time means less chance of stall vices, joint and lung problems.
There is no individual turnout year round, unless your horse has an injury or special needs.
Summer – turnout is from approximately 9:30AM until between 8:00-10:00PM.
Winter – turnout is from approximately 9:00AM until 7:00-8:00PM.
Turnout hours are dependent on weather conditions.
Feed and Feeding Schedules
Outdoor Board
Horses are fed generous individual piles of fresh hay 2-3 times per day, according to size of the herd. We are extremely conscientious about the quality of hay, and ONLY feed the best quality hay in small square bales. The night feeding is extra generous to ensure the horses have food all night that will last well into the morning. Last night check of all paddocks is always done between 12:00-1:00AM. This schedule has been successful for the past 13 years.
Any additional grain or supplements are the responsibility of the horse owner while on outdoor board. If outdoor horses require grain, supplements or medication arrangements can be made for a fee.
Stall Board
Stall board includes two feedings per day of soaked grain / pellets. Our feeding program is mainly Purina products including Integri-T, Plus, Classic, TriMax, beet pulp.
Last night check of all horses is always done between 12:00-1:00AM.
Any additional feeds or supplements provided by the owner can be added to your horses feeding program.
Boarding Fees
Board is due on the first of every month, if you are late paying your board, a five dollar charge will have to be paid every day unless specific arrangements are made between you and Daimar Stables.
Riding
Indoor Arena
Well maintained large riding arena with dust free footing and jumps available.
Outdoor Arena
Sand ring available outside, not maintained during the winter. Not fenced, adjacent to indoor arena.
Trails and Property
Ride around rural farm fields, through wooded areas, around (or in) the pond, or around our paddocks. 100 acres on property, with access to trails and gravel roads if you're more adventurous.